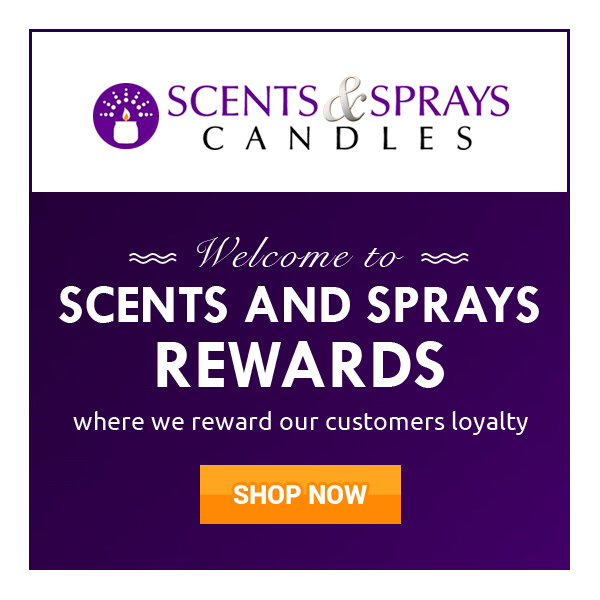 Welcome to Scents And Sprays new rewards program where our fabulous and loyal customers get perks for just being our customers.
HOW IT WORKS:
All customers registered with an online account are automatically enrolled in the Scents And Sprays Rewards program. To see your points just log into your Scents And Sprays online account and click the Scents And Sprays Rewards tab on the leftside of our page.

Don't have an account? Join the rewards plan by creating an account today.
WAYS TO EARN SCENTS AND SPRAYS REWARD POINTS:
Make an order
+1 Reward Points for every $1 spent
Create a store account
+200 Reward Points
Refer a friend
+500 Reward Points
Your Birthday
+50 Reward Points
I WANT TO REDEEM MY SCENTS AND SPRAYS REWARD POINTS. WHAT DO I DO?
When you are ready to redeem points log into online account and the Scents And Sprays link at the Left Side of any page to view your account balance. If you are eligible to redeem a reward a button will appear on Rewards tab.
Simply click redeem and you will be provided with a unique coupon code to be entered at discount.
A copy of the unique one time coupon code will also be emailed to you.
*Note Scents And Sprays Reward Points are distributed to customers upon order shipment and completion.
Terms & Conditions:
1 Scents And Sprays Program launch date is Jan. 26 2016. Any online purchases made on or after stated date are eligible for the Scents And Sprays Reward points. Please note that we cannot combine accounts or award points for returned or cancelled purchases. Scents And Sprays reserves the right to limit the number of rewards.
2. Excludes taxes, discounts, and shipping.
3. Coupon codes cannot be combined. Only one coupon code may be used per purchase and reward cannot be used with any other promotion.